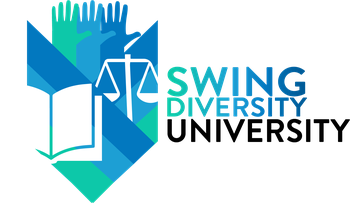 SwingDiversity University
Each 1-year program is slightly different, depending on the scope of the role itself, but they all have one thing in common — to train community members from historically marginalized groups to be prepared and available for roles in the community.
Each program consists of:
(1) virtual lectures and coursework
(2) a practicum period, e.g. apprenticeship by shadowing the faculty.
All trainees must be at least 18 years of age by January 1st of the cycle year to participate. All trainees will be required to agree to abide by the SwingDiversity University Code of Conduct. The cadence and details offered below may change prior to the program's launch. There is no guarantee that trainees will have opportunities at national events.
Applications for the next class open in the fall. For the 2024 cycle, the applications are due by Friday, November 3rd. An orientation kick-off will occur in late January.
Questions? Email our University administration directly: [email protected]
The University has provided over 60 hours of free training to more than 20 community members!