We can't do this without you! Check out some opportunities where you can get involved!
You can also email us at [email protected]
At this time, donations are not tax-deductible. We are committed to providing this incentive in 2023.
Is your dance studio willing to host a SwingDiversity fundraiser? 
Send an email to [email protected] with the subject line: Fundraising – [insert city name].
Thank you to the White Rabbit Society of Phoenix, Arizona for your support in 2021!
Pictured here: Travis Swartzlander, organizing member of the White Rabbit Society, and co-directors Judith Asem and Deon Harrell.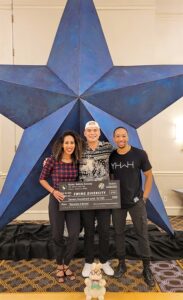 APPLY TO BE A SUMMER 2022 SCHOLARSHIP RECIPIENT
FOLLOW US ON FACEBOOK and instagram FOR UP-TO-DATE ANNOUNCEMENTS!



Nominate a community member that you believe deserves the spotlight by completing this form
Don't forget to see who is currently in the spotlight!
Like our Facebook page &
share it with others.